New HERA Black Cushion SPF34+/PA+++ (+ Refill 15g)
---
Availability:

In Stock (3)

Brand: HERA 赫拉

Model:

WEGEE-BM1000904

Price in reward points: 58

Visit Store: WeGee
---
Features
It realizes a thin but powerful matte cover with a powerful fitting force
that makes the cover layer invisible.
'Super adhesion + High coverage + matte cover without clumping + color without darkening'
All four cover properties are maintained for more than 24 hours,
providing high-quality makeup durability.
* 94% effect on mask smear prevention
The shades tailored to Asian women's skin and cushion formulations
make the natural skin tone stand out the most.
How to use
After using the foundation,
use a puff to take an appropriate amount at the foundation stage
and apply on the face as if patting it.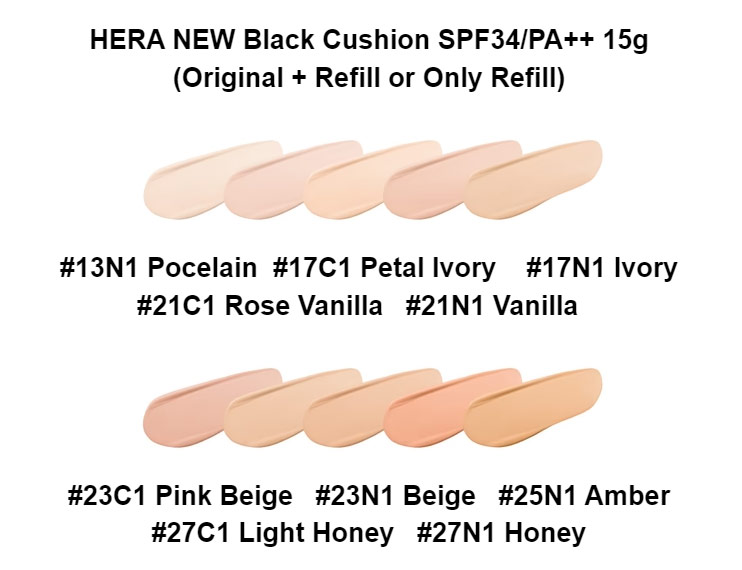 Country/Region of Manufacture
Made in
Korea
Stock Status
Location
USA
Free USA Domestic Shipping on our Store Order Over $30
*Notice to Customer: the "Best by" date on packaging is not an expiration date. Example: "赏味期限 2020.2.25" (Best by). These are suggested "Best by" dates, known as "shomikigen" in Japan, by Japanese manufacturer and are applied to the foods that last longer and can be consumed within 1 month after the date.
*Due to COVID-19, some of Japan products may not be able to ship on time or even not be able to ship out. If the order is not be able to ship out, we will contact you to cancel the order ASAP. Thanks for your understanding and stay safe.