Hera HUGO & VICTOR COLLABORATION UV Mist Cushion SPF50+ + Refill Limited Edition
---
Availability:

SOLD OUT !

Brand: HERA 赫拉

Model:

WEGEE-BM1000873

Price in reward points: 4200
---
Perfect harmony between dessert and makeup Secret recipe from Paris Like it Collection Cushion foundation that's amazing and mysterious - just like the universe A Mineral Clay Water EX, fortified with high-molecular moisturizing ingredients, helps retain moisture in the skin to give a healthy, hydrated skin. Hypertonic Radiance technology brings out moisture to the skin's surface to create a plump skin with a dewy glow.
- Amazing and mysterious just like the universe - that's the cushion foundation of HERA for an easy, quick and perfect look of plumped-up, dewy glowing skin HERA's star product makes impossible possible. 15g x 2
foundation on the puff. Gently dab across the face.
· TOUCH-UP Using the puff applicator, press down gently on the cushion sponge to control and get a small amount of foundation.
Lightly dab across the face, focusing on the areas of concern.
· PRECAUTIONS Close the inner lid tightly after each use to preserve freshness.
Not closing the lid may cause the beneficial ingredients to evaporate and make the cushion sponge to shrink.
If you use your hands to apply the product, you may not feel the cooling effect of the product due to your hand temperature. The puff is designed to be anti-bacterial and hygenic to use.
No.C21: Recommendable to the person of Medium & slightly yellowish(tone) Skin.
No.C23: Recommendable to the person of Medium & slightly Red(tone) Skin.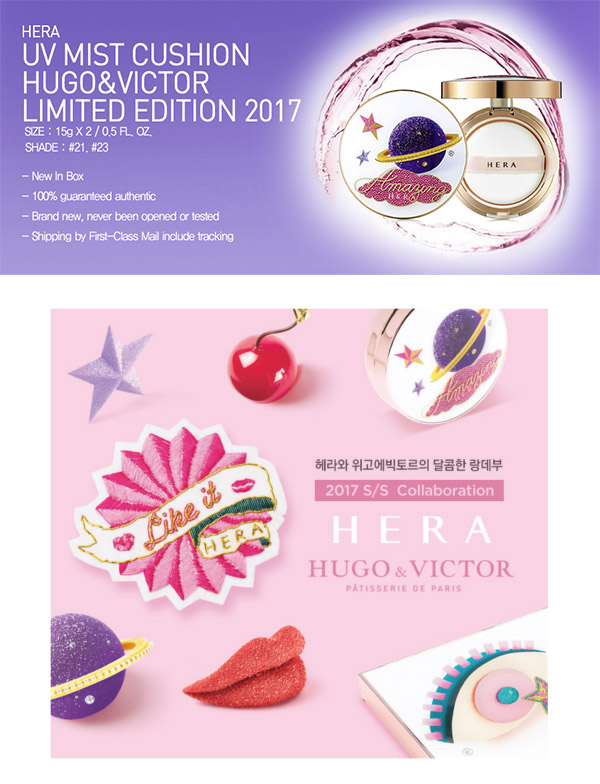 Country/Region of Manufacture
Made in
Korea
Stock Status
Location
USA