SHANGPREE Gold Premium Modeling Mask 1 Piece
---
Availability:

In Stock (10)

Brand: SHANGPREE

Model:

WEGEE-BS1000908-1

Price in reward points: 420

Visit Store: WeGee
Transactions: 1 orders (9 pieces)
---
This is "Premium Ampoule Modeling Mask ", the great combination of oil based nourishing ampoule and basic moisturizing property. The advanced "Esthetician Formula" of Gold and Chitosan awakens your skin and senses to a youthful radiance. "Chitosan" is one of the ingredients which gets rid of the daily pollution like aggressors on your skin as well. And the Absolute Nourishing Ampoule supports the skin's natural defenses while providing moisture for a healthy glow.
[How To Use]
1. Take out the 1. and 2. out of the box
2. Empty the entire contents of [1] Gold Gel an [2] Ampoule into a bowl
3. Spread the mask evenly over the face within about 5 min, before it starts to set.
4. Leave on for 30 min.
5. Peel it off!.

[Caution]
1. Please stop using the product if you find the following symtoms:
a) Red dots, Swelling, Irritation and Pain while you are using the product.
b) Above symptoms happen at direct sunlight.
2. Please do not use on wound, eczema or inflammation area.
3. Please do not apply on the area around the eyes.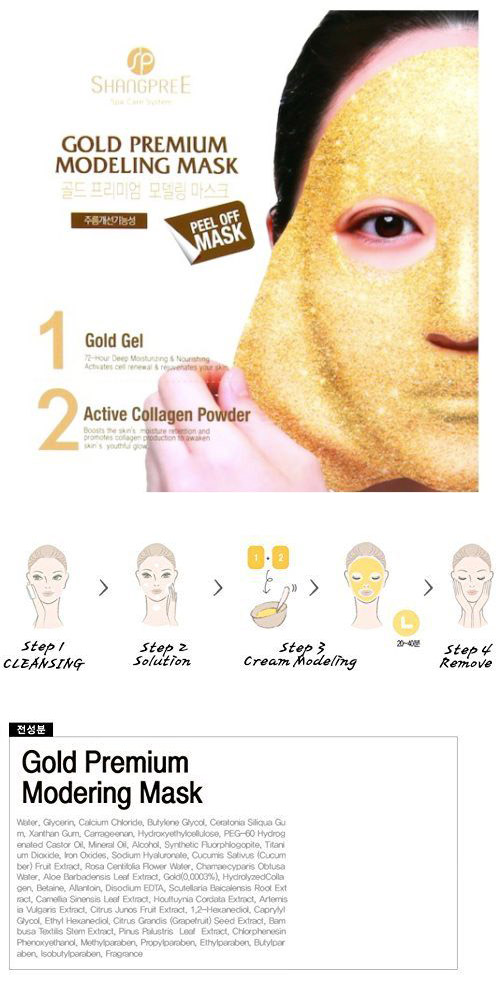 Country/Region of Manufacture
Made in
Korea
Stock Status
Location
USA
Free USA Domestic Shipping on our Store Order Over $30
*Notice to Customer: the "Best by" date on packaging is not an expiration date. Example: "赏味期限 2020.2.25" (Best by). These are suggested "Best by" dates, known as "shomikigen" in Japan, by Japanese manufacturer and are applied to the foods that last longer and can be consumed within 1 month after the date.
*Due to COVID-19, some of Japan products may not be able to ship on time or even not be able to ship out. If the order is not be able to ship out, we will contact you to cancel the order ASAP. Thanks for your understanding and stay safe.