Korea CHOKCHOK Silk Body Cleanser Cherry Blossom& Honey 250g
---
Availability:

In Stock (2)

Brand: ChokChok

Model:

WEGEE-BB1000113

Price in reward points: 1800

Visit Store: WeGee
Transactions: 3 orders (11 pieces)
---
A body cleanser enriched with cherry blossom extract & honey extract
This eye pleasing body cleanser is also pleasing for the skin. The abundant cherry blossom extract makes your skin smooth and soft, and keeps it hydrated all day long. The gentle foam cleanse away your the skin-waste, while fresh cherry blossom scent cleanse away your fatigue.
1. Softness
Cherry blossom makes skin silky smooth and smooth.
2. Moisturizing
Keeps your skin moisturized all day without water.
3. Deep Cleansing
Eliminates loose bubbles with soft foam.
4, Cherry blossom incense
Sweet and refreshing cherry blossom scent lasts long on the skin.
It feels like being under a cherry tree.
Soft, smooth, moist skin !
The cheerful scent of cherry blossoms that envelops your body for a long time !
Moist cherry blossom silky body cleanser with rich natural ingredients !
Smooth and radiant skin like shiny silk
Emit healthy shine from the skin
Helps skin absorb and smooth skin
Skin texture improvement
How to use
Wet the skin with lukewarm water. Create lather in palms or by using wet towel or sponge,
then massage on body with foam to cleanse. Rinse thoroughly.
Key ingredients
Cherry Blossom Extract maintains clean & soft skin
Honey Extract rich natural amino acid creates a protecting layer on skin to lock the moisture in, and maintain hydration
Niacinamide Iproves damaged skin barrier, and brightens the complexion
Collagen firming care through moisturizing & nourishing
Hyaluronic Acid solves the fundamental cause of moisture loss and turns the skinmoist.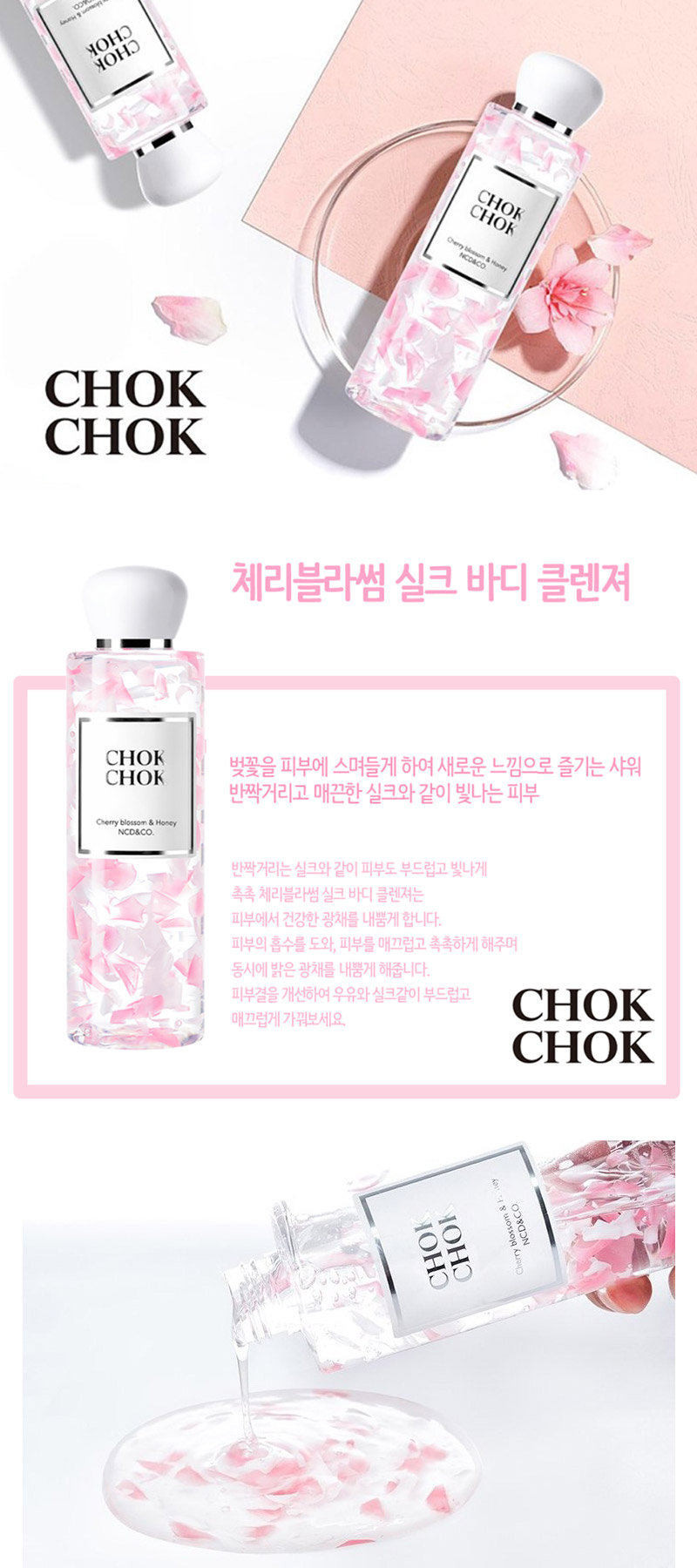 Country/Region of Manufacture
Made in
Korea
Stock Status
Location
USA
Free USA Domestic Shipping on our Store Order Over $30
*Notice to Customer: the "Best by" date on packaging is not an expiration date. Example: "赏味期限 2020.2.25" (Best by). These are suggested "Best by" dates, known as "shomikigen" in Japan, by Japanese manufacturer and are applied to the foods that last longer and can be consumed within 1 month after the date.
*Due to COVID-19, some of Japan products may not be able to ship on time or even not be able to ship out. If the order is not be able to ship out, we will contact you to cancel the order ASAP. Thanks for your understanding and stay safe.