Japan Sweet Message De Rose Chocolate ミニローズ
---
Availability:

Ship from Japan (10)

Brand: Message De Rose

Model:

WEGEE-FJ100112

Price in reward points: 5200

Visit Store: WeGee Global
---
*Only available during Valentine's season

小さな薔薇を小花柄の箱に詰めたプチギフト。

甘味と苦みのバランス、香りにこだわって選定した当社オリジナルブレンドのチョコレートを小さな薔薇・つぼみ・リーフに仕上げました。
ひと口サイズなので食べやすく、またリボンを結んだパッケージはちょっとしたお礼にもピッタリです。

A small gift in which a small rose is packed in a small flower pattern box.
Chocolate of our original blend selected with particular attention to the balance of sweetness and bitterness and fragrance is finished in small roses, buds and leaves.
The bite size makes it easy to eat, and the ribbon tied package is perfect for a little thank you.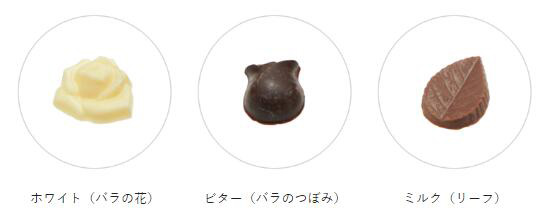 サイズ Size
9.7×3.5cm


特定原材料等

Row Material

乳、大豆 milk, soy


賞味期限

Expiration Date

製造日より180日 180 days from date of manufacture
Country/Region of Manufacture
Made in
Japan
Stock Status
Location
Japan
WeGee Global Buy
Free Shipping on order over $100, otherwise we will charge flat rate $25 for the order below $100
*Notice to Customer: the "Best by" date on packaging is not an expiration date. Example: "赏味期限 2020.2.25" (Best by). These are suggested "Best by" dates, known as "shomikigen" in Japan, by Japanese manufacturer and are applied to the foods that last longer and can be consumed within 1 month after the date.