Japan NARIS UP Parasola Fragrance UV Sun Spray SPF50+ PA++++ 90g
---
Availability:

In Stock (2)

Brand: Naris 娜丽丝

Model:

WEGEE-BB1000120

Price in reward points: 2000

Visit Store: WeGee
Transactions: 1 orders (5 pieces)
---
1.Parasora essence in fragrance UV spray is a day sunscreen spray of skin care sensation was plenty of blended beauty liquid component.
2.10 kinds of beauty liquid blending component (nano hyaluronic acid and nano collagen
3.high-penetration vitamin C derivative, ceramide, amino acids, coenzyme Q10 · royal jelly extract, hibiscus extract, pomegranate fruit extract, chamomile extract).
4.because the smell of the popular suite floral for women, even as a fragrance spray. Sweat of smell is also not worried.
5.without a white float, it can also be used from the top of the hair and make-up.
waterproof type.
6.SPF50 + · PA ++++. Hair, face, sun.
7.non-colored, non-mineral oil, preservative (paraben) free.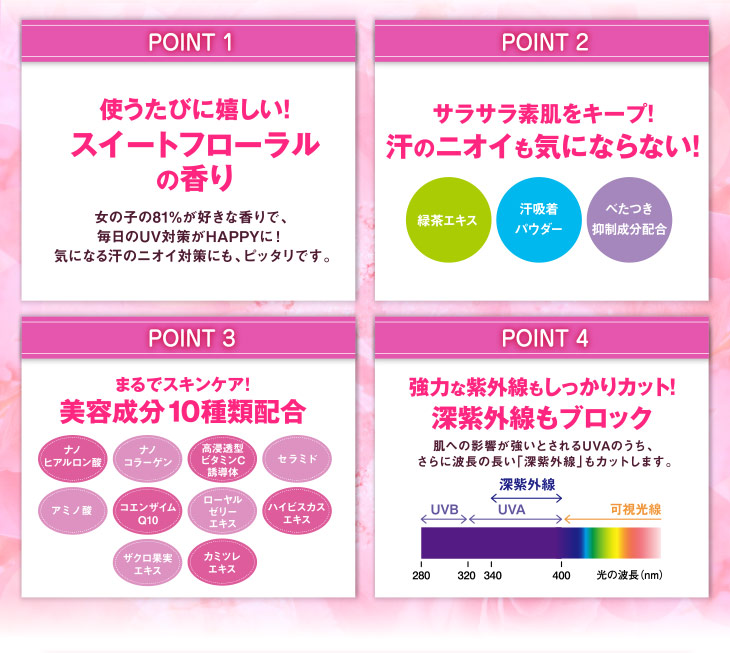 Country/Region of Manufacture
Made in
Korea
Stock Status
Location
USA
Free USA Domestic Shipping on our Store Order Over $30
*Notice to Customer: the "Best by" date on packaging is not an expiration date. Example: "赏味期限 2020.2.25" (Best by). These are suggested "Best by" dates, known as "shomikigen" in Japan, by Japanese manufacturer and are applied to the foods that last longer and can be consumed within 1 month after the date.
*Due to COVID-19, some of Japan products may not be able to ship on time or even not be able to ship out. If the order is not be able to ship out, we will contact you to cancel the order ASAP. Thanks for your understanding and stay safe.