Japan MINON Amino Moist Whitening Mask (4 sheets)
---
Availability:

In Stock (3)

Brand: MINON

Model:

WEGEE-BS1000966

Price in reward points: 2499

Visit Store: WeGee
---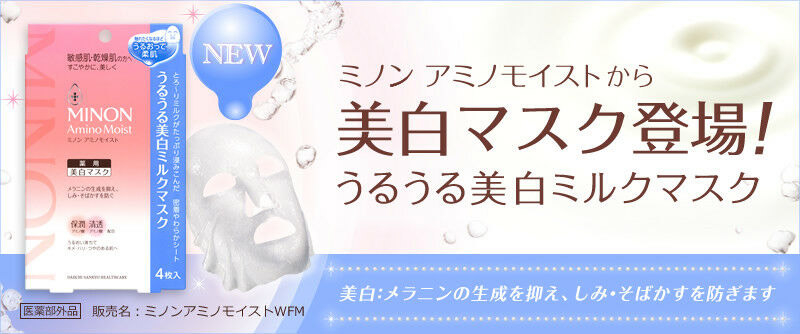 Country of Origin: Japan
Contents: 20 x 4 sheets ml
Skin Type: Sensitive
All components: L-ascorbic acid 2-glucoside glycyrrhizic acid 2K
Water-concentrated glycerin 1,3-propanediol Ethylhexyl palmitate BG fluidized polyisobutylene POE behenyl ether myristic acid myristyl dimethicone lipophilic glyceryl stearate phenoxyethanol serine citric acid sodium sodium hydroxide solution both acrylic acid and alkyl methacrylate Polymer xanthan gum Behenyl alcohol Lauroyl glutamate di (phytosteryl octyl dodecyl) arginine glycerin fatty acid ester glycerin ethyl hexyl ether POE hydrogenated castor oil sodium chloride natural vitamin E DL-PCA Na liquid alanine glycine L-valine L-leucine threonine histidine proline citric acid diethylenetriamine 5 acetic acid 5 Na solution 2-methacryloyloxyethyl phosphorylcholine methacrylate stearyl copolymer hydrogenated soybean Phospholipids lauric acid polyglyceryl hyaluronate Na-2 L-lysine hydrochloride cherry leaf extract kiwi extract tryptophan Vitamin E
Label: Daiichi Sankyo Healthcare
Brand: MINON (Minon)
ReleaseDate: 2018-01-23
● In addition to drying, it also prevents skin stains and stains at the same time.
● Sunburn · Prevent hot flashes after snowfall and skin.
● Adhesive soft muffled soaked with plenty of milk, tightly adheres to the skin, does not drip liquid.
● Emollient effect, prepare the skin texture that is easy to do, leads to a smooth touch.
● Hypoallergenic prescription.
Official Info: https://www.daiichisankyo-hc.co.jp/site_minon-aminomoist/gl/en/
Country/Region of Manufacture
Made in
Japan
Stock Status
Location
USA
Free USA Domestic Shipping on our Store Order Over $30
*Notice to Customer: the "Best by" date on packaging is not an expiration date. Example: "赏味期限 2020.2.25" (Best by). These are suggested "Best by" dates, known as "shomikigen" in Japan, by Japanese manufacturer and are applied to the foods that last longer and can be consumed within 1 month after the date.
*Due to COVID-19, some of Japan products may not be able to ship on time or even not be able to ship out. If the order is not be able to ship out, we will contact you to cancel the order ASAP. Thanks for your understanding and stay safe.